Thermoplastic Roofing Contractors Milwaukee: The Right Solution at The Right Price!
Book Today, Get it Done in a Day!
South Eastern Wisconsin & Milwaukee Thermoplastic Roofing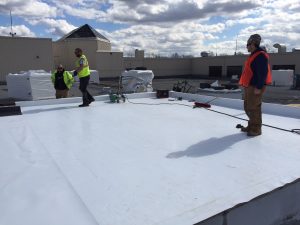 Thermoplastic membranes are one of the best choices for commercial flat roofing applications in Milwaukee because they are all-season roofs. They have been proven to protect buildings all year round while delivering a consistent performance. Nex Level Roofing are top Thermoplastic roofing contractors in Milwaukee that install high-quality thermoplastic TPO and PVC roofing systems. Here are some of the inarguable benefits of our TPO roofing Milwaukee:
Very happy with the service. They showed up fast and got the job done right away at a decent price. Best experience I have had with a roofing company. I will definitely call them when I'm ready to replace the entire roof.
Great company to deal with. They helped me with my insurance claim. The response was very fast. New roof installed and the quality was amazing. I highly recommend them if anyone is looking for a good roofing company.
William Sayles
2022-02-15
We had a leak in our overhang on our roof. We thought it was one thing and they came out and found the real problem. Our stove vent needed to be revented out the roof. Did a great job. Front first call to finish it took 5 days. VERY HAPPY WITH SERVICE and JOB DONE.
We had a great experience with Nex Level Roofing. We appreciated their high quality materials, professionalism, and workmanship at a great price. From the sales conversations to the final installation and clean up, everything went smoothly and we highly recommend their business.
Showed up on time and I was late, but they waited. They did roof cement on the flashing Also found other areas that needed work and did that.I asked our window cleaner to take a look at the work.as I don't have a ladder to check the work. He took a cell picture for me.GREAT JOB! Thanks, Tom
It was so refreshing to work with such a outstanding team , They did everything they said and even more, this is a team I will highly recommend
Excellent work. Friendly! Timely! Professional!!
Very professional and a very fair price,plus their clean up was outstanding.
I have to tell you this was the best contractor experience I've ever had. They were always on time, very professional and very polite. The work was amazing inside and out. The cleanup is so thorough that when they are done you would never know they were even there. Edgar, Jonathan and Jackie were truly a pleasure to work with. Even their Dad Javier did some of the work! A nice family owned company. I would not hesitate to recommend them.
TPO Roofing Milwaukee: South Eastern Wisconsin's Best TPO Roofers
Book Today, Get it Done in a Day!
Milwaukee TPO Roofing Systems Are Easy To Maintain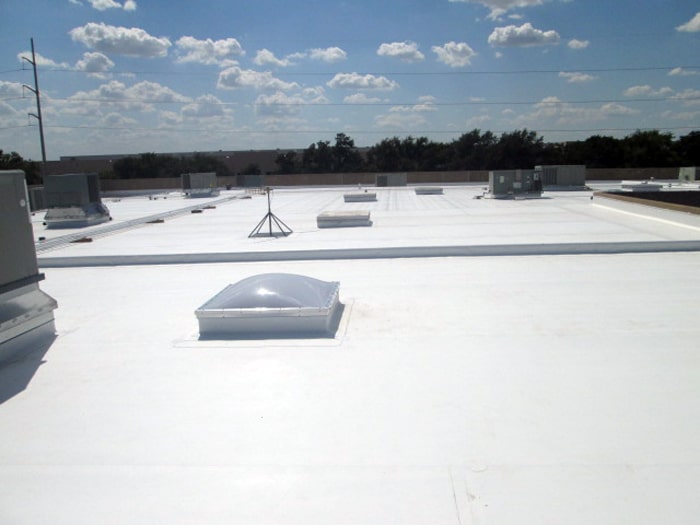 Thermoplastic roofing membranes or TPO roofing in Milwaukee are easy to repair and maintain. These roofing systems do not require any kind of recoating, re-saturating, or resurfacing. Our experts from Nex Level Roofing will simply correct any seam tears, openings, or cuts through the same heat-welding process we use during the installation process. The procedure of adding fixtures and penetrations through to the surface is also quite simple. We are one of the few Thermoplastic roofing contractors Milwaukee who have the ability to join the flashing material and the in-place installation.
Great Seaming Technology With TPO / Thermoplastic Roofing in Milwaukee
We only deal with thermoplastic membranes that feature a unique seaming technology. We usually join our thermoplastic materials together through chemical processes or heat welding technology. These two methods produce a permanent bond that is extremely strong. As Thermoplastic roofing contractors Milwaukee, we have special automatic and manual welding equipment. We use these to make the most impermeable fused seams, giving our thermoplastic materials an improved all-weather performance.
Versatility With TPO Roofing is Great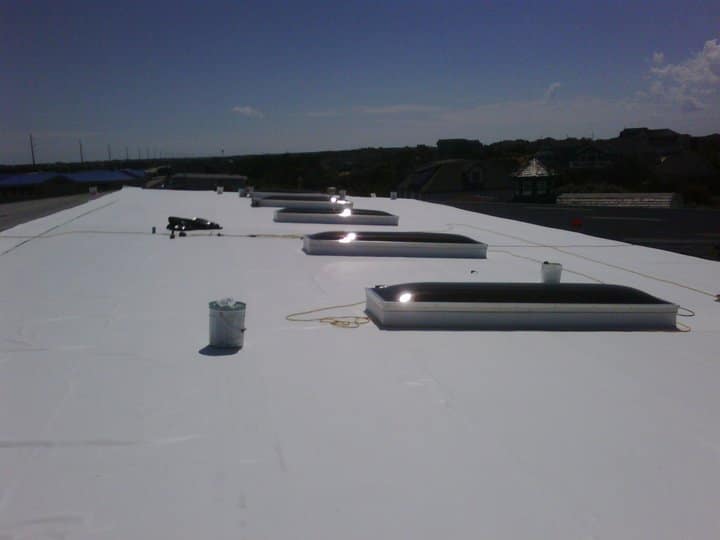 We have the ability to install TPO roofing / thermoplastic membrane roofing systems using different methods. We can either fix them ballasted, fully adhered, or mechanically fastened. This allows them to be used for any roofing application. Thermoplastic membrane roofing systems are known to accommodate barrels, steep slopes, domes, or large flat roofs. These are the roofing systems mostly used for factories, industrial buildings, malls, factories, convenience stores, and institutional structures.
Thermoplastic membranes have been delivering excellent performances in severe climatic conditions, from arctic to tropical weather. They also have an aesthetic appeal that is pleasing to the eye, not to mention their versatility and lightweight nature. Nex Level Roofing is the most trusted South Eastern Wisconsin & Milwaukee Thermoplastic roofing contractor. We are well equipped with years of experience and certified by top roofing manufacturers. Call us today to learn more about TPO membranes roofing systems or to request free estimates.
At Nex Level Roofing, we have designed our Milwaukee commercial roofing services that keep you from spending too much on flat roofing systems. Our thermoplastic polyolefin roofs are an excellent option for commercial flat roofing because they allow you to save a lot on air conditioning and heating throughout the year. TPO roofing Milwaukee has the ability to last for more than 40 years and is composed of synthetic rubber. These top-notch roofing systems, combined with a professional installation, are the best security for your property.
Contact Nex Level Roofing contractors today
At Nex Level Roofing, we will never rush our customers to make a quick decision about their roofing system. Instead, we will provide Milwaukee TPO roofing systems that will offer you a lot of benefits. If you are looking for more information about our flat roofing systems, and which application will work best for you, please call us today. We have a professional team in place, ready to answer all your questions.
Nex Level Roofing Services is well conversant in all modern TPO installation methods used in the Milwaukee region. So that we can bring you the best offer in the industry, we have teamed up with some of the most prominent names in Milwaukee's commercial flat roofing industry.
Years ago, Nex Level Roofing introduced TPO single-ply roofing membrane to Milwaukee's non-residential market.  Currently, our company is among the leading single-ply roofing companies in the region.
Since 2019, we have been a trusted Thermoplastic roofing contractor in Milwaukee and supplier of heat-weldable TPO single-ply roofing membranes.  Today, our company is among the leading regional supplier of heat-weldable TPO roofing membranes.
Our organization has a successful industry track record, being one of Milwaukee's best providers of TPO single-ply roofing systems. Nex Level Roofing has a wide variety of single-ply roofing systems that meet most of South Eastern Wisconsin & Milwaukee's building designs, from an admirable line of  EPDM Roofing Systems to a state-of-the-art, line of thermoplastic heat-weldable Premier Roofing Systems.
Reliable and Trusted

South Eastern Wisconsin & Milwaukee Roofing Contractors
OUR COMPANY - NEX LEVEL ROOFING
We perform all types of

roofing, gutter, installation, maintenance

and

repair
Whether you are looking for a total roof replacement or roof repair, we are one of the best roofing contractors in Milwaukee and South Eastern Wisconsin that are fully equipped with the know-how, all the resources, and tools to get the job done with a record turnaround time.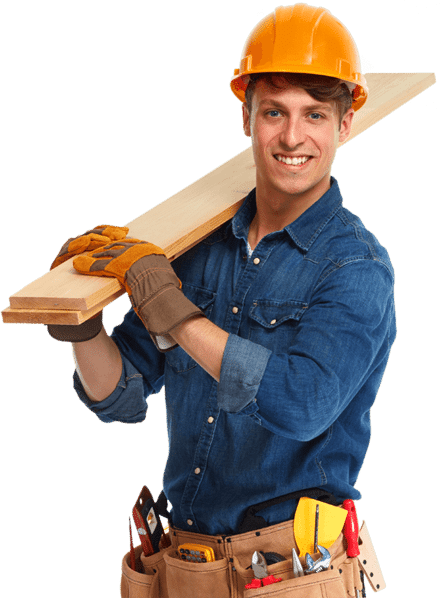 Ready to

schedule

your gutter or roofing service?
When you hire us for roofing services, you know you're getting highly qualified professionals who have the expertise and experience to make sure your project is done properly.
How to

contact

us

If you've got questions or need detailed pricing, send a message. Need faster assistance? Give us a call.